One Little Smile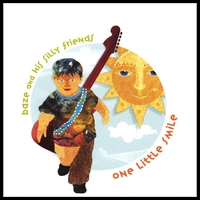 Way back in the day, I mentioned that I got to sing back up for my amazing brother-in-law's new children's album. Well, here it is... One Little Smile. (I am quite happy to be one of the Silly Friends.)

The description says, "The goal of this cd is to give children music of their own that they could rock out and dance to and which their parents could listen to without going crazy." All I can say is, Amen to that! Marc is also donating $1.00 from each cd sale to help fight autism.

Please check it out, I will definitely be giving this to a few lucky people this Christmas!

ps ~ You can hear a bit of me singing the chorus here (click "Toddler Dance" in the menu to the left) but alas, it cuts off before we get to the "Go boogie, dancing Grandma" part.
french toast girl
#
---
All artwork and content of this site copyright © Élena Nazzaro 1993-2010. Support your favorite artists and don't steal!