Further along the Artist's Way
Two years ago, I did The Artist's Way and all the fantastic work it entailed. So now I'm about to take another step and do the 12-week set of projects in Julia Cameron's book "Walking in This World".

Again, I'm asking - who's with me? If you're interested in furthering your creative journey and want someone to travel with, please send me an email or comment here. Like last time, I will be posting weekly updates and we can help each other. I'd like to start soon in the New Year, so if you want in, let me know!

Here's to a super-creative 2007!
french toast girl
#
---
So I finally did it.
I finally succumbed and signed up for MySpace. If you want to spread some toasty goodness around, link up and I'll friend you right back. (Also, if you know of/belong to an art group you think is good, let me know!) As friend and fellow artist Allyson proclaimed, "You are officially 16 now!" :)


http://www.myspace.com/frenchtoastgirl
french toast girl
#
---
Toddler Dance Party


This was the scene at our house on Christmas -- filmed and mixed by my brother-in-law Marc. Are they a hoot or what? Watch them shake their groove thing here.

The Solid Gold Toddler Dancers are:
Sophie - blue sweater and pigtails
Angela - red dress and pigtails
Petey - blondie with dark sweater
Jude - blondie with red vest and shirt


Enjoy!
french toast girl
#
---
with love
french toast girl
#
---
Illustration Friday: Peace


This is from the Christmas card I painted in 2001. Before that I had painted animals or bible verses for our cards, but 9/11 shook us so much that we agreed we needed to do something different.

I had done a lot of peace chalking that fall, and this is a painting/colored pencil drawing that came out of it. It is not a portrait of me; I think it's of a young girl and Paul thinks it's of an angel. It can be whatever speaks to you.



Labels: art, illustration friday
french toast girl
#
---
Put another log on the fire, babe*


As I type this, I'm toasting my toes in front of a modest but lovely wood fire.

But that almost didn't happen. We almost stuck one of the laptops in the space and watched the WPIX Yule Log.

September: Paul gets the bright idea to replace the fireplace parts, which are roughly five years old but have seen some hard use. This is one of the ways we heat our downstairs in winter, and we actually melted the grate the wood rests on. So he goes to the fireplace supply store after carefully measuring the fireplace, and orders new parts. The grate. And the parts that form the inside of the fireplace - there are three of them that fit together tightly like a puzzle. They tell us the parts will be ready in October.

October: The parts aren't ready.

Early November: The parts come in! Hooray! Paul picks them up and sets to work taking the old parts out of our fireplace.

The new ones, despite the fact that they have our name on them and the correct dimensions marked on them as per Paul's measurements, are in fact, the wrong size.

And Paul can't put the old pieces back in because they cracked when he took them out.

The company says, Oopsie! We'll have to order them again for you from the manufacturer! Should have them by Thanksgiving!

We do not have them by Thanksgiving.

December: The company is so sorry! Really! They won't give us any money off for our troubles, but they will let us cancel our order. Which only means that we would have to go to another store that will probably be using the same manufacturer. Just get us the parts, okay?

Paul calls a week later: are the parts in?

Ummm... yes, the parts are in and they're the right size, but.... they broke.

(Incoherent noises from Paul.)

So finally, three months after we initially ordered the parts, they agreed to let us keep the wrong-sized parts for free, put them together, and just make very small fires to keep on the safe side. So I am getting toasty in front of a very small fire, which I am still rather grateful for. I'm hoping that maybe by the kids' birthdays we will have real honest to goodness parts for the fireplace, but I'm not holding my breath. What I don't get is, what makes this kind of incompetence okay?

*Sophie loves to sing this song. With a twang, no less. (Okay, with modified lyrics.)
french toast girl
#
---
Deck the Halls with Punctuation


The other day we heard Angela singing one of her favorite songs off the John Denver and the Muppets Christmas album. "Christmas is coming, the goose is getting fat, please put a bunny in the old man's hat. If you haven't got a --"

I had to jump in. "Angela, please put a what in the old man's hat?"

She stopped playing and looked up at me. "A bunny!"

I explained that the word is penny, but we like bunny so much better that that's the way we all sing it now.




Not to be outdone by her sister, Sophie-the-super-genius has decided that her new lyrics for her favorite song are "Deck the Halls With Punctuation." She occasionally varies this with "Deck the Halls with Interjections" just to keep things fresh.

Petey doesn't have any new lyrics for us, but he is the first to yell out "AH-ha!" on "Feliz Navidad", and has the Charlie Brown Christmas shoulder-shrug dance down cold. It's one of the funniest things I've ever seen.

What's your favorite misheard lyric?
french toast girl
#
---
introducing... the Nazzaro family singers!
We have a pretty unique arrangement with our church. Basically, we can sing at whatever mass we can make it to, make up whatever harmonies we want, don't sing if we don't want to (or have to drag a child outside for whatever reason). We totally love this arrangement as we met in the choir and really can't make it to rehearsals anymore, so this keeps our hands in.

Yesterday morning saw Paul and his guitar, me, our three tiny ones each with their own music stand (purely because they wanted to put books on them), and my friend Cyndy's two kids, Hannah, and Joe. They decided it would be fun to join us and we always say the more the merrier. So you have two adults and 5 kids, ranging in age from almost 3 to 6 years old, some with microphones, most of them singing. We must have looked quite impressive.

After mass, all these parents came up to us and told us we reminded them of the Von Trapps, a thought that had certainly crossed my mind a few times that morning. I had to explain that only three of them were mine and frankly, I think they were disappointed.

But it's emails like this one from my friend Gina that make the whole thing worthwhile:

I'm so glad you emailed because I wanted to thank you for singing at the 9:15 (esp last week). My husband (who doesn't get enthused about anything), leaned over and said "Where is that voice coming from? I hope she sings professionally." At that we looked over and saw you literally wrestling with one of the kids. It was a riot. Please keep coming back and keep singing. Your harmony (if that's what it is) is just a phenomenal addition to the mass.

At the very least, we provide entertainment value.
french toast girl
#
---
Let's Say Thanks


From my Uncle Dom... If you go to this web site, Let's Say Thanks, you can pick out a thank you card and Xerox will print it and it will be sent to a soldier that is currently serving in Iraq. You can't pick out who gets it, but it will go to some member of the armed services.

How cool is this? It's free, and all the artwork is done by kids! No matter how you feel about the war, we can certainly all send some cheer to the men and women serving there.
french toast girl
#
---
This is my life.


Via Dooce and here. When this aired on TV, I almost fell off the couch giggling. :)
french toast girl
#
---
Tip for today
When you are so mad/frustrated that you want to go hit something, taking everything out of the refrigerator and scrubbing it top to bottom is a good redirection of energy.

My refrigerator is now very, very sparkly.
french toast girl
#
---
allllllviiiiiinnnnn!
Had to share this, via my brother:

Hear The Chipmunk Song at normal speed!

Read more about Ross Bagdasarian (aka David Seville) and learn how he used his last $200 to buy a top of the line tape recorder to record "Witch Doctor". His kids loved it so much (um, and the public) that he was asked to write another song using the same techniques. Read more about the history of the song here. (Click "It all began in 1958...")
french toast girl
#
---
Illustration Friday: Mask
Labels: art, illustration friday
french toast girl
#
---
Leaping
I have been loving Keri Smith's articles lately - especially her one she wrote for HOW Magazine about freelancing as an illustrator. One of the things she says is to find something you love and believe in. "It's as simple a letter saying, 'I like what you're doing. Can I be involved somehow? Here's what I do.' "

So I wrote a letter to a certain magazine I believe strongly in, saying how much I loved them, introduced myself, and how I thought we'd be a perfect match. I heard back from them the next day, and if all goes well, it looks like I will be having one of my illustrations in their next issue! (And yes, I will say more about it then!)

The point is that even though I was nervous to do it, I did it anyway. I told myself, What's the worst thing that could happen? They already don't have any of my illustrations in their magazine! The worst thing they could say is no.

What are you scared to do with your art? Put it out there! The worst someone can say is no.
french toast girl
#
---
Artist's Survival Kit
More goodies from Keri Smith. If you don't have her bookmarked, go do it now. I'm off to go make and present myself with my own award.
french toast girl
#
---
One small yellow candle
When I look back over everything I did in the past few days, the only thing I can point to and say "I did that for myself" was to light a small yellow votive candle and set it on the table where I can see it while I work. Everything I have done has either been for someone else, or so incredibly mundane (but necessary) that I went to bed bewildered at how I had spent my day and where the time went. Today I finally got a shower. Who knows where such self-indulgence will lead me today? I'm hoping it will lead: to yoga while the kids are napping, to finish a new drawing, to writing some letters from the heart. Or a big peanut-butter cookie. That would work for me too.
french toast girl
#
---
Hey Ya, Charlie Brown Style


I couldn't resist, I love this song. And Sally shakin' it like a polaroid picture kills me.
french toast girl
#
---
My real age
Frequent blog readers (and family members) know how I feel about nutrition and eating healthy. I recently saw the special on PBS with the doctor - I'm not sure of his name, but he's the one on Oprah who makes life-long smokers come up and feel a healthy lung and a diseased one. He's either Dr. Roizen or Dr. Oz. Does anyone know his name?

In any case, I was motivated to take the Real Age test online and found my age to be 2.5 years younger because of clean livin' and healthy eating. It gives me LOTS of tips for things I can fix (erm, like stop being so darn stressed all the time) including stuff I can print out and bring to my doctor to ask specific questions. I'm making Paul take it right now.

So what's your real age?
french toast girl
#
---
One Little Smile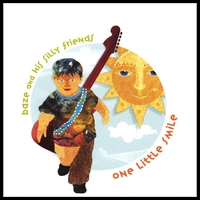 Way back in the day, I mentioned that I got to sing back up for my amazing brother-in-law's new children's album. Well, here it is... One Little Smile. (I am quite happy to be one of the Silly Friends.)

The description says, "The goal of this cd is to give children music of their own that they could rock out and dance to and which their parents could listen to without going crazy." All I can say is, Amen to that! Marc is also donating $1.00 from each cd sale to help fight autism.

Please check it out, I will definitely be giving this to a few lucky people this Christmas!

ps ~ You can hear a bit of me singing the chorus here (click "Toddler Dance" in the menu to the left) but alas, it cuts off before we get to the "Go boogie, dancing Grandma" part.
french toast girl
#
---
All artwork and content of this site copyright © Élena Nazzaro 1993-2010. Support your favorite artists and don't steal!
ART, iNSPiRATiON, AND WHY LiFE iS LiKE FRENCH TOAST.
a little bit o' toast:


what I've got they used to call the blues

the 6th annual michelangelo project


good ones:



syndicate me:

subscribe
in a reader
my art on flickr:
the rest of the French Toast Phenomenon is here
link love:


member:

Join | List | Previous |
Next | Random
archives:
Eight years of bloggy goodness.
November 2001 December 2001 January 2002 February 2002 March 2002 April 2002 May 2002 June 2002 July 2002 August 2002 September 2002 October 2002 November 2002 December 2002 January 2003 February 2003 March 2003 April 2003 May 2003 June 2003 July 2003 August 2003 September 2003 October 2003 November 2003 December 2003 January 2004 February 2004 March 2004 April 2004 May 2004 June 2004 July 2004 August 2004 September 2004 October 2004 November 2004 December 2004 January 2005 February 2005 March 2005 April 2005 May 2005 June 2005 July 2005 August 2005 September 2005 October 2005 November 2005 December 2005 January 2006 February 2006 March 2006 April 2006 May 2006 June 2006 July 2006 August 2006 September 2006 October 2006 November 2006 December 2006 January 2007 February 2007 March 2007 April 2007 May 2007 June 2007 July 2007 August 2007 September 2007 October 2007 November 2007 December 2007 January 2008 February 2008 March 2008 April 2008 May 2008 June 2008 July 2008 August 2008 September 2008 October 2008 November 2008 December 2008 January 2009 February 2009 March 2009 April 2009 May 2009 June 2009 July 2009 August 2009 September 2009 October 2009 November 2009 December 2009 January 2010 February 2010 March 2010 April 2010
i believe in: